FLYING WITH AN ESA VS PSD
ESAs (Emotional Support Animals) and PSDs (Psychiatric Service Dogs) both have benefits for people suffering with psychological disorders in the world, but there are a few key differences to ESAs and PSDs which are important to know when traveling by airplane with a pet.

Since February 2021, ESAs are no longer accepted as support animals on US flights. Now, ESAs must travel as normal pets in airline compliant carriers–subject to airline size requirements–for the duration of their journey with you.

We have created this article to explain what ESAs and PSDs are, the differences, who qualifies, and the requirements, so that pet-parents with emotional challenges and psychiatric disabilities can understand their rights and the differences between ESAs and PSDs for airport travel.
THE DIFFERENCES: ESA VS PSD
EMOTIONAL SUPPORT ANIMALS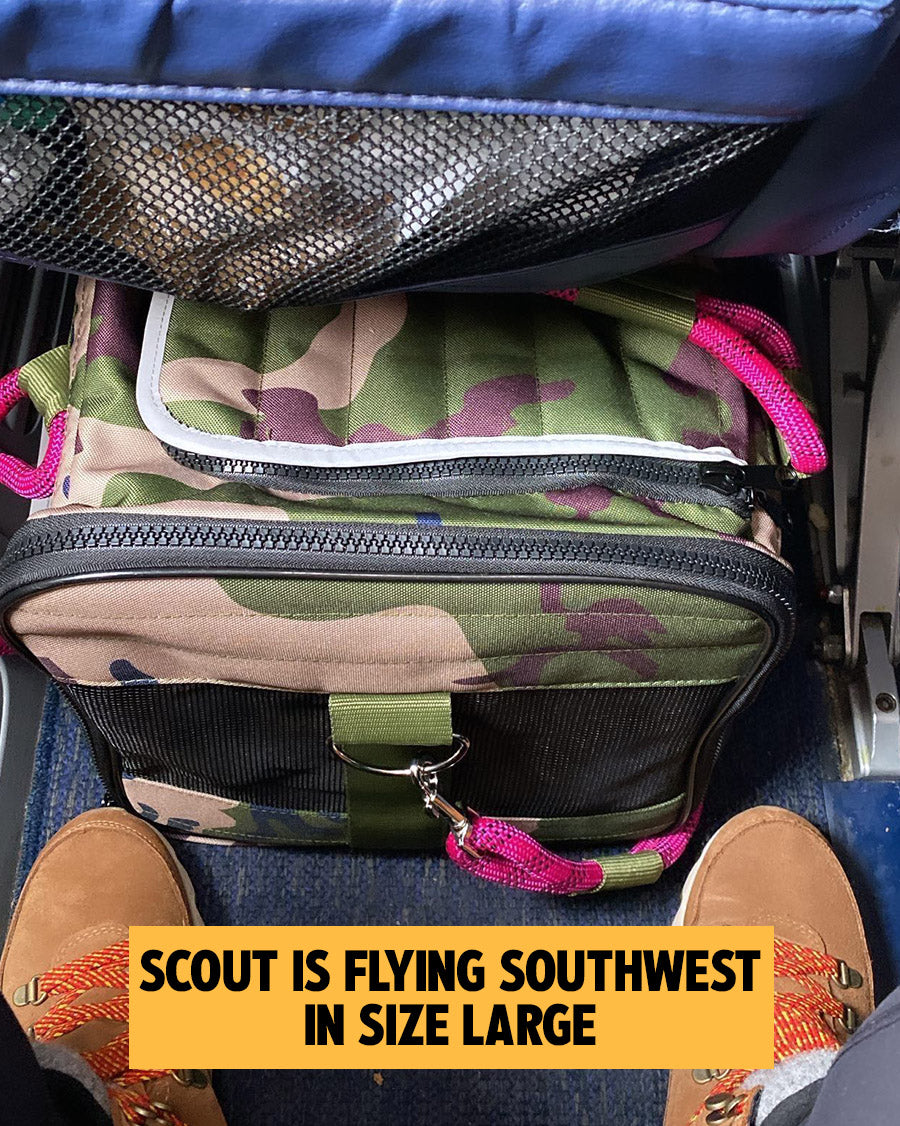 HOW DOES MY PET BECOME AN ESA?

Your pet needs to be prescribed as an emotional support animal by a licensed mental health professional to a person with a disabling mental illness.
CAN ANY ANIMAL BECOME AN ESA?

Yes, any domesticated animal may be classified as an ESA. Please check with your individual airline for additional regulations.
DOES MY PET NEED SPECIAL TRAINING TO BECOME AN ESA?

There are no training requirements for your pet to receive ESA status.
CAN MY ESA TRAVEL IN THE PLANE WITH ME?

Yes, however, your pet must travel in an airline compliant pet carrier and remain inside the carrier for the duration of your flight. ESAs no longer have special flying priveleges and as of February 2021 are now treated as a normal in-cabin pet, not a service animal. Please check with your airline before you travel to ensure you comply with their pet in cabin policies.
IS MY ESA REQUIRED TO FLY IN A PET CARRIER?

Yes, your pet will need to fit within an airline compliant pet carrier that complies with your airline's in cabin pet policy. Most airlines allow soft sided pet carrier dimensions to slightly exceed their recommended dimensions so long as your ESA appears at ease in your pet carrier.
DO I NEED TO PROVIDE ANY PAPERWORK TO FLY?

An ESA certification letter is irrelevant for airline travel as ESAs are considered normal pets and must comply with your airline's in cabin pet policy.
IS THERE AN IN CABIN PET FEE TO FLY?

Since your ESA is now considered a regular in cabin pet, most airlines now now require a pet ticketing fee for each leg of your trip.
DO I NEED TO CHECK IN MY ESA AT THE AIRPORT?

Yes, most airlines require you to physically check in at the airport with your pet.
CAN MY ESA BECOME A PSD?

Yes, since you already have a dog that is registered as an ESA, you can complete additional training with your pup to achieve PSD status. See below for more information on PSD qualifications. There are a number of online resources such as US Service Animals that allow you to complete this training virtually.
PSYCHIATRIC SERVICE DOGS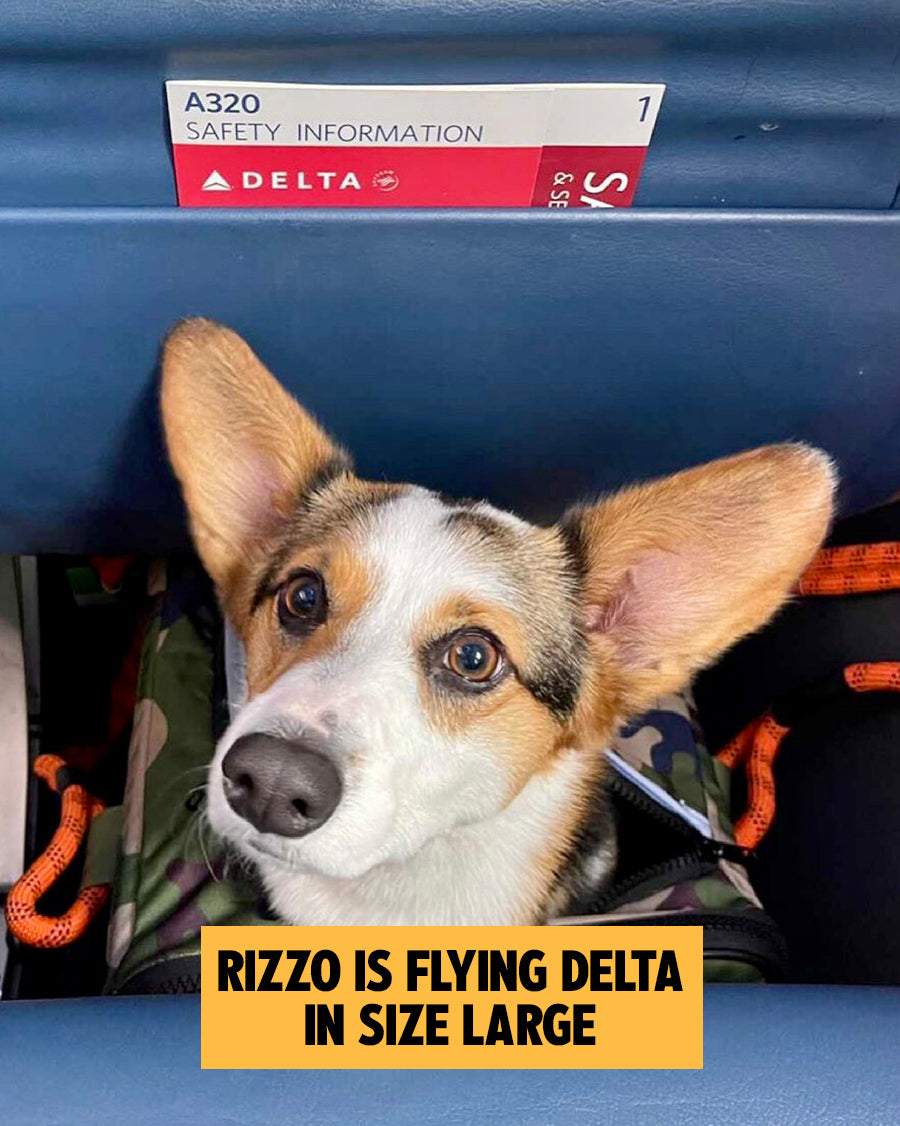 CAN ANY ANIMAL BECOME A PSD?

No, dogs are the only animal eligible to be a PSD.
HOW DOES MY DOG BECOME A PSD?

You are legally required to have a diagnosis of a disability (for instance, Anxiety, Depression, PTSD) from a licensed medical or mental health professional and your dog must go through service animal training.
WHAT ARE THE TRAINING REQUIREMENTS?

Your dog must complete 120 hours of training, and must be able to perform at least one task on command in relation to your disability.
CAN MY PSD TRAVEL IN THE PLANE WITH ME?

Yes, your PSD has full status as a service animal and may accompany you to any public spaces including airports and on airplanes as part of the rights afforded to you as a disabled person.
IS THERE A DOG SIZE LIMIT FOR IN CABIN PLANE TRAVEL?

No, service dogs do not have a size or weight limit for in cabin plane travel.
IS MY DOG REQUIRED TO TRAVEL IN A PET CARRIER?

PSDs are not required to fly in a pet carrier. Many individuals traveling with a small to medium sized service dog still choose to travel with their pet in a carrier. In many cases, PSDs are able to travel in slightly larger pet carriers due to their status as a service animal and your status as a disabled person.
IS ANY PAPERWORK REQUIRED TO FLY?

In order to bring your PSD in cabin, you will be required to complete a few forms with the US Department of Air Transportation that verify your pet's service animal status. This includes an affidavit that your pet has completed its training and complies with federal service animal requirements. Most airlines also allow you to submit these forms online prior to your flight.
DO I NEED TO CHECK IN MY PSD AT THE AIRPORT?

With most airlines, you do not need to check in your pet prior to going through security. Check with your airline for individual rules.
IS THERE AN IN CABIN PET FEE TO FLY?

No, you do not have to pay a pet travel fee on US flights.
READY TO ROVE?
Now that you know the ins and outs of ESA vs PSD, set your sights on your next adventure with your pup leading the way.
OUT-OF-OFFICE PET CARRIER
Regular price
$159.00 USD
Regular price
Sale price
$159.00 USD
Unit price
per
Sale
Sold out
Share
View full details