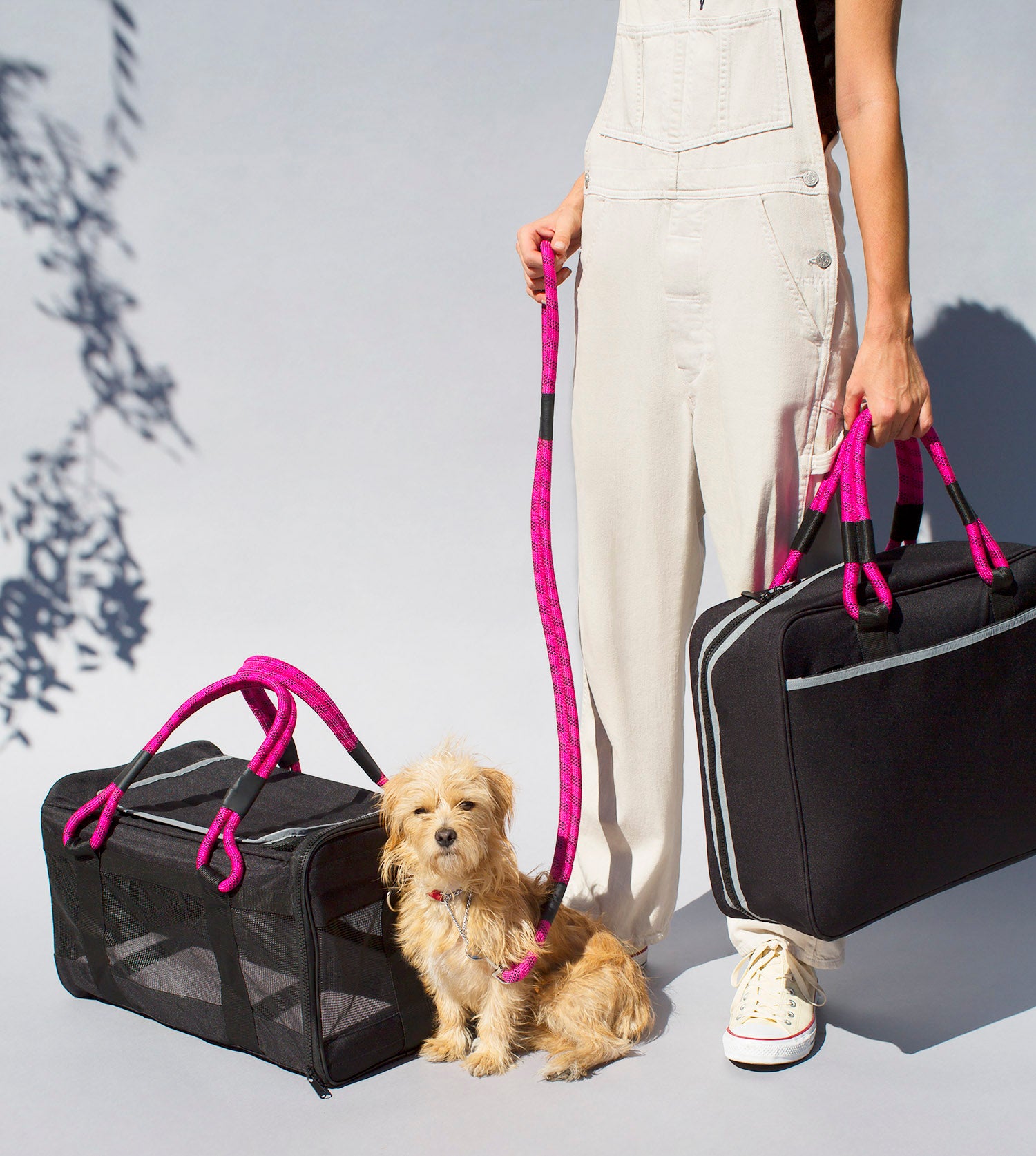 SELECTING THE RIGHT PET CARRIER
At Roverlund, we know choosing the right airline-compliant pet carrier for your adventure buddy is essential to enjoying smooth journeys together. Whether you're running errands around town or jetting off to far-away places, having a carrier that your pup is comfortable in is a necessity.
SIZING GUIDE & COMMON BREEDS
WEIGH YOUR PUP

You can use your pup's estimated weight as a guide to select the best pet carrier size.

The Out-of-Office Pet Carrier comes in two sizes:

Small (suitable for most dogs and cats 15 lbs and under)
Large (suitable for most dogs and cats 25 lbs and under)

When in doubt, we always recommend going a size up.
MEASURE YOUR PUP'S LENGTH & WIDTH

If you have a measuring tape handy, you can also take their measurements to confirm it will be a good fit.

Start at the front of their chest and measure the distance to their rear. For their height, measure from the top of their shoulder blade to the base of their paw.

Small fits most dogs up to 16.5" in length and 10" in height.
Large fits most dogs up to 18.5" in length and 12" in height.
SMALL SIZE RECOMMENDED BREEDS

The Small size is suitable for most teacup and toy dogs 15lbs and under, including the following common breeds:

Brussels Griffon
Chihuahua
Chinese Crested
Dachshund (Teacup & Toy)
Japanese Chin
Maltese
Pomeranian
Poodle (Teacup & Toy)
Portuguese Podengo Pequeno
Russell Terrier
Schipperke
Miniature Pinscher
Papillons
Silky Terrier
Toy Fox Terrier
Yorkshire Terrier
LARGE SIZE RECOMMENDED BREEDS

The Large size is suitable for most small and medium dogs 25lbs and under, including the following common breeds:

Affenpinscher

American Cocker Spaniel

American Eskimo Dogs (Toy & Miniature)

Australian Terrier 

Bichon Frise

Basenji 

Beagles

Bedlington Terrier 

Border Terrier

Boston Terrier 

Cairn Terrier

Cavalier King Charles Spaniel

Cesky Terriers 

Cirnechi dell'Etna

Corgi 

Coton de Tulear 

Dachshund

Dandie Dinmont Terrier

Doodle 

English Toy Spaniel

English Cocker Spaniel

Fox Terrier

French Bulldog

Havanese

Italian Greyhound

Lakeland Terrier

Lhasa Apso

Löwchen

Manchester Terrier

Miniature American Shepherd

Miniature Bull Terrier

Miniature Schnauzer

Norfolk Terrier

Norwegian Lundehund

Norwich Terrier

Parsons Russell Terrier

Pekingese

Petits Bassets Griffons Vendeen

Poodle (Miniature)

Pug

Pyrenean Shepherd

Rat Terrier

Scottish Terrier

Sealyham Terrier

Shetland Sheepdog 

Shiba Inu 

Shih Tzu

Swedish Vallhund

Tibetan Terrier

Tibetan Spaniel

Welsh Terrier
MAXIMUM ROOM FOR IN-CABIN PLANE TRAVEL

Our carriers are in-cabin compliant with most major airlines.

Each carrier is designed to fit within the space under the seat in front of you, which is typically about 12" in height.

Our pet carrier is one of the largest in-cabin compliant carriers available. When traveling by plane with our Large size, we recommend removing your carrier's rear pocket insert. This way, your carrier's flexible rear frame can more easily conform to the seat requirements in front of you.

Please keep in mind that in-cabin pet policies are subject to change at any time, and we always encourage our customers to reach out to your specific airline prior to your planned travel with any concerns you may have.
MOST PUPS WON'T FULLY STAND UP IN THE CARRIER

It is totally normal if your pet is not able to stand up in the carrier.

Think of the ideal size as a cozy, snuggly place for your pup or cat to curl up and snooze. With soft-sided carriers like ours, most pups—unless they are teacup or toy size breeds—will not be able to stand up inside—and that's okay!
HOW DO I KNOW IT'S A GOOD FIT?

Your dog should be able to turn itself around comfortably in the carrier. Most dogs are not able to stand up fully, which is normal. What's most important is that your dog is comfortable and at ease.

It is okay for the carrier to be a snugger fit so long as your dog is comfortable and under your supervision.
OUT-OF-OFFICE PET CARRIER
Regular price
$159.00 USD
Regular price
Sale price
$159.00 USD
Unit price
per
Sale
Sold out
Share
View full details