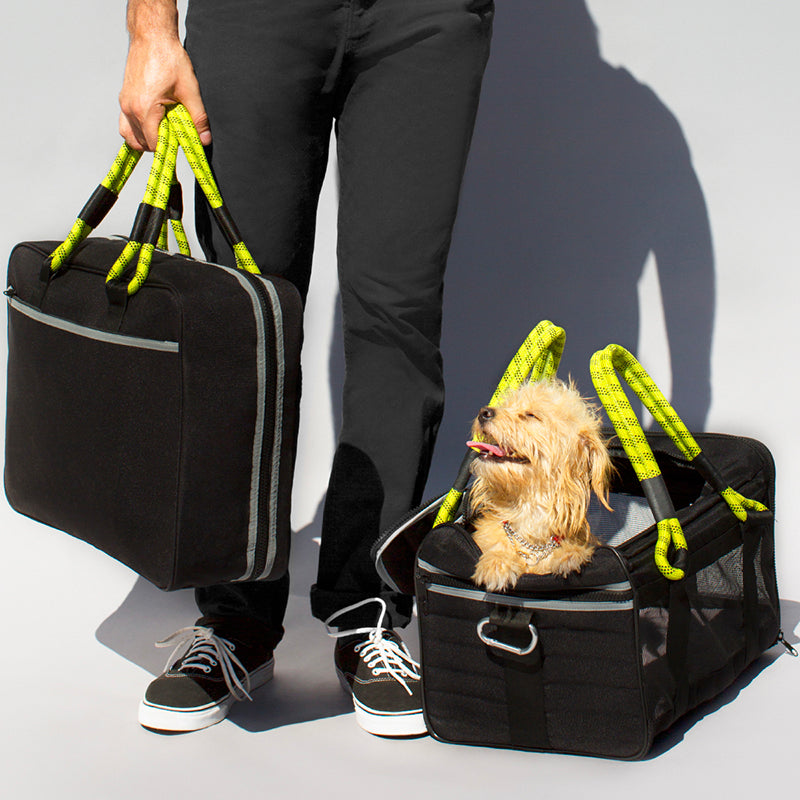 TIPS FOR FLYING WITH YOUR PUP
At Roverlund, we are well-groomed in putting pups in planes. We know it is key to have all your ducks in order to have a great in-flight experience with your pet travel buddy.

Here are our tips to help get you travel-ready and to make jet-setting with your four-legged friend a breeze.
GETTING READY FOR YOUR TRIP
1. SELECT THE CORRECT SIZE SOFT-SIDED PET CARRIER

2. ACCLIMATE YOUR PUT TO THEIR CARRIER

3. CHECK YOUR AIRLINE'S REQUIREMENTS

Before booking your flights, call or visit your airline's website to determine their in-cabin pet and carrier requirements. Most airlines allow pets up to 25 pounds to fly in-cabin, as long as they are comfortable and can turn themselves around in their carrier.

Your airline may also require additional documentation and up-to-date vaccines, so be sure to ask about their vaccination and documentation policies. Most major airlines have recently started to require proof of rabies vaccination upon check-in at the ticket counter.

4. DETERMINE DESTINATION-SPECIFIC REQUIREMENTS

For travels abroad, some countries have restrictions and additional vaccination requirements for bringing pets with you.

We recommend checking the USDA APHIS Pet Travel website for your destination's pet requirements prior to booking a flight. You should give yourself a few weeks of planning as some country-specific paperwork requires approvals before your travels.

5. A VISIT TO THE VET MIGHT BE NECESSARY

If your pup has never flown before, you may want to schedule a visit with your vet to confirm your pup is ready to fly. The vet can also give you the necessary vaccines and documents required by your airlines. In some cases, your airline may have specific forms for the vet to fill out, so we recommend confirming the necessary documents with your airline before your vet visit—this is primarily applicable to international travel.

During your visit, ask your vet about any concerns you may have. This is also a great time to ask your vet if they recommend any supplements to calm your pup during the flight.

6. CHOOSE CONNECTIONS FOR LONG FLIGHTS

If you are flying internationally or have a long journey, you may want to break up the trip with connections—every six hours or so. Most domestic and international airports have pet relief stations where you can let your pup stretch out and relieve themselves, which makes the long journey much easier on your pup.

7. LOOK UP YOUR AIRPORT'S PET RELIEF STATIONS

Before your trip, we highly recommend that you locate each airport's pet relief stations and download the airport map on your phone before you take off. If your connections are especially tight, this may help lessen your travel day stress, as relief stations may sometimes be located in another terminal or concourse.
OUR #ROVERLUND PALS IN FLIGHT
1. FEED THEM A HALF-PORTION MEAL

The morning before you fly, we find that it is helpful to feed your pup a half-portion meal to lessen the likelihood of having an accident. We recommend allowing your pup to drink water normally to avoid dehydration during your flight.

2. TAKE THEM FOR A WALK BEFORE ENTERING THE AIRPORT

After you arrive at the airport, try taking your pup for a final walk before you head inside to the check-in counter. This may be your last chance to relieve your pup before arriving at your destination, so take this opportunity to have a last stroll outside.

3. CHECKING IN WITH YOUR PUP

After their walk, zip your pup up in their carrier and head to the check-in counter inside the airport. This is when the airline may check your pup's documents and give you the necessary paperwork to board the plane with your pet.

4. GOING THROUGH SECURITY

Keep your pup in their carrier until the TSA/airport agent informs you it is time to take them out. Typically, you will walk with them held in your arms through a metal detector. We recommend that you keep your pup on a leash when taken out of the carrier.

5. KEEP THEM ZIPPED UP DURING THE TRIP

Once you are at the airport, the only times your pup should be out of their carrier is when you hold them in your arms while going through security (while their carrier goes through the X-ray) and when your pup is in the pet relief area. Pets are not allowed out of their carriers at any point while in the airport or in-flight, unless they are a certified service dog.

6. HYDRATE WITH ICE CUBES

You can hydrate your pup during the flight by giving them ice cubes. Ask a flight attendant for a cup of ice and then feed your pup one ice cube at a time. This is a simple and mess-free way to feed them water while they are zipped up in their carrier.

7. AVOID FEEDING THEM DURING THE FLIGHT

Pups can go for a number of hours without a meal. We suggest holding off your pup's next meal until you arrive at your destination—if it isn't too far—to avoid accidents in their carrier.

8. KEEP AN EYE ON THEIR BEHAVIOR

Most pups are cool as a cucumber when travelling, but be on the look-out for any unusual behavior. If your pup begins to have behavioral issues like barking or scratching in their carrier, discipline them immediately so they know they are not allowed to act in that way.
WITH THESE HELPFUL TIPS YOU'RE ALL SET. BON VOYAGE!
We truly believe all flights are better with a dog or cat travel buddy. Getting to travel with your best bud in tow is one of the great modern perks of having a pup. So kick back, relax and enjoy your flight with Fido.